Penname:
FishieLPKaulitz8 [
Contact
]
Real name:
Fishie
Member Since:
05/22/08
Membership status:
Gold Member
Bio: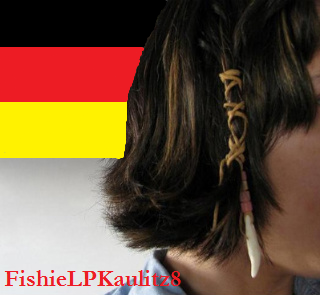 Navajo and German. With a hint of Irish and Nahuatl.

I live in the middle of nowhere in a town of the Old West.

ADD and awkward. I forget things. Apologies in advance.



Regular Updates

Cheyenne Tohtoo'e
Bill's a white, Cheyenne American Indian in 1864 in the
Dakota Territory. I REALLY love writing this one and everyone
else seems to love reading it *0*
27 chapters completed
Last Update: 08/15/13 (417 Reviews; 18,202 Reads)

Completed (after 7 years): 10/07/16
32 chapters; 264 reviews; 6983 reads

Note: I took this story down some time ago, but
as of 2/27/2016, I began reposting it with one chapter per
week (but I can't take this old update thingy down
as I'm attached hahaha). It was edited and had new content
added. I hope you all love it as you once did before.
For any new readers, it is my greatest wish that you enjoy
this story, as it's close to my heart.



There will be a sequel to Cheyenne.
I don't know when I will post it or how long it will be,
but it will be titled Cheyenne O'omene and it means "Cheyenne Mountain" :)


This is a video taken by a friend from Las
Vegas. I was standing right next to her at The
Roxy concert in Hollywood on February 15th, 2008;
first Tokio Hotel American concert. And no, the
video is not on zoom :)







[
Report This
]
Contact Author:
Indicates required fields. Please be respectful and polite when contacting an author.