Penname:
Lazurline [
Contact
]
Real name:
Member Since:
04/20/08
Membership status:
Gold Member
Bio:
RETIRED.
I'm back only for the Big Bang.
[
Report This
]
Series by Lazurline
Summary: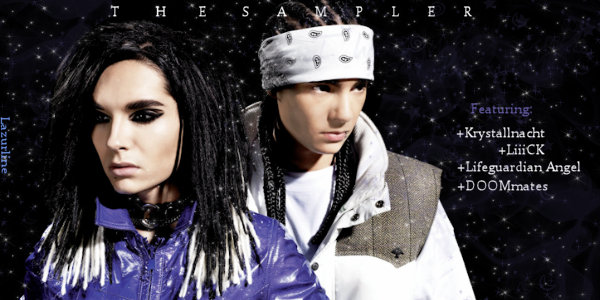 rnrn
My last set of fics. Enjoy!
Parent Series: None
Categories: Slash
Characters: Andreas, Benjamin, Bill Kaulitz, Bushido, David Jost, Gordon Trumper, Gustav Schafer, Jorg Kaulitz, Original Male Character, Simone Trumper, Tom Kaulitz
Genre: Alternate Universe, Angst, Drama, Established Relationship, First Time, Fluff, Humor, Hurt/Comfort, Mpreg, PWP/Lemon, Romance, Twincest, Twincest - Not Related
Main Pairing: Tom/Bill
Side Pairing: None
Warnings: Abuse, Adult Content, BDSM, Heavy Kink, Humiliation, Incest, Light Kink, Non-Con/Rape, Pedophilia, Self-Harm, Spanking, Torture, Under-Age Erotica, Violence, WIP
Stories: 3
Open: Closed [Report This]
Summary:
Collection of fics by Lazurline.
Parent Series:
None
Categories:
Slash
Characters:
Andreas
,
Bill Kaulitz
,
Bushido
,
David Jost
,
Dunja
,
Female Celebrity
,
Georg Listing
,
Gordon Trumper
,
Gustav Schafer
,
Jorg Kaulitz
,
Male Celebrity
,
Original Female Character
,
Original Male Character
,
Saki
,
Simone Trumper
,
Tom Kaulitz
Genre:
Alternate Universe
,
Angst
,
Drama
,
Established Relationship
,
First Time
,
Fluff
,
Horror
,
Humor
,
Hurt/Comfort
,
Romance
Main Pairing:
Bill/Andreas
,
Bill/Bushido
,
Tom/Bill
Side Pairing:
None
Warnings:
Adult Content
Stories:
8
Open:
Open [
Report This
]