Penname:
HazelEyes [
Contact
]
Real name:
Amanda
Member Since:
02/23/10
Membership status:
Member
Bio:
My name is Amanda and I am in my 2nd year of college. I am currently studying to be an English major with a minor in either music or Creative Writing. I haven't decided yet :)
I'm working as a florist right now and have been since I was 16! So, it's been 4 years of amazing memories at the little flower shop I love! I'm also currently going to be working with dogs in a day camp, but hope to become a groomer on the side to make more money! :)
I
LOVE
music! It's my life source in the world and I don't know what I would do without my headphones and iPod... I'd go crazy, I think!
I
LOVE
tattoos and piercings, which is why I have so many! :D And I
LOVE
to write. Without writing, I couldn't imagine myself staying sane. Since I am a writer, I constantly have thoughts running through my head. New ideas are always playing out in my mind and I write them down. If it looks like I write alot of stories, it's because I do. I'd rather write them down for you all to read then keep them bottled up! So, I hope you enjoy my crazy thoughts! :D
I'm a
TOM GIRL
and I definitly have been from the beginning. I only discovered Tokio Hotel a year ago, but I have been in love with them from moment number one. The sound of Bill's voice always calms me and makes me smile (corny, I know). I love all the boys in the band, but I prefer Tom ;)
If there are any other questions, just contact me! I
LOVE
meeting new people and I have met some awesomely talented ones on this site!
Gracias! Danke! Thanks!
***
Here is a list of the fanfics I have written or am in the process of writing so far:
Wake-Up Call
Tom wakes up to a beautiful man. He then experiences the best sex of his life, the best wake-up call... EVER.
Completed: YES
Come Here
Amanda was a maid. She didn't have fancy things, no designer clothes, but that didn't matter to Tom. He was determined to know this girl. He just never expected to fall for her...
Completed: YES
Let The Flames Begin
Jude saw them. He was sure of it. The three of them. He saw Bill's lips on hers, while Tom's hands wandered around, touching every inch of her body. They all knew that Jude knew. They had to stop him from telling.
Completed: NO
The Pain of Love
writing with NORAbora
Sometimes love can hurt. For Morgan, Bill was her everything, her all. No matter how many times he hit her, she still loved him. Tom wanted it to end. Could this woman tear the twins apart?
Completed: NO
The Tape
ďWell, I donít know really how to do one of these things, but I thought I would give it a try. Uh, oh crap. What do I say?"
Completed: YES
Thanks a lot, Georg!
Ever wonder why in every picture of Tom he is wearing black leather gloves? Well, this is the story...

Thanks a lot, Georg!
Completed: YES
24
I had 24 hours until I was dead. I had 24 fucking hours to say goodbye to my life and prepare to embrace death. How could I do that? How?
Completed: NO
Welcome To Mystery
How did he find out his life was made up? Thatís a long story. But, if you will listen, then I will tell you. I will not spare you any details. I will speak the truth. Iím blunt, honest, and raw. Can you handle it? If you can, then here it isÖ
Completed: NO
***
I LOVE THE TWINS!! XD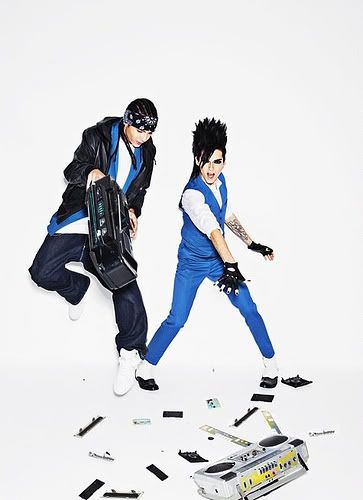 [
Report This
]
Contact Author:
Indicates required fields. Please be respectful and polite when contacting an author.