Penname:
RAWR_ImaMonster [
Contact
]
Real name:
KristynaMarie
Member Since:
01/06/10
Membership status:
Member
Bio:
Hello.

INFO!

Name: KristynaMarie(Kristyna), Kris, Kristy...whuttever else you want to call me really...p.s. its pronounced like Christina or Cristina just spelled unique [:

KristynaMarie|15|April 6|Random|Energetic|Short|Fun|Music|Fragile|
Music||Hair||MakeUp||Fun
That's all =)

For those of you wondering what I look like.


That's me and all my strangeness.

Cool People Here
Billy: So fucktastic, love yoooh!
H483: *super.glomp* this chick is cool!
Jelly: She's so awesome, I can't stand it!


Previouly SkullGirlXOXO 8)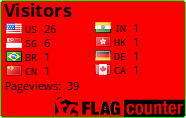 [
Report This
]
Contact Author:
Indicates required fields. Please be respectful and polite when contacting an author.