Penname:
Ascuba [
Contact
]
Real name:
Acela
Member Since:
11/04/08
Membership status:
Member
Bio:
Mi Familia
ML- WIFEY! She makes me happy!
Anony- Annie! Dis be de shit right hur. Love her like a... bestie!
Maggie- My lil sis... Hehe.
xJamx- Jameh! OK so this be my brit hoe. She be pimpin it yo.
Billa_Loves_Skittles - Skits! Mai lurve! *snuggles* Tis my Canadian love. :D
Toki88 - My master when I go all ghost kitty on yo ass. :P
Lady Timalda - O.O Did I spell that right Drag Queenie? Idk... but ja. Since she smokes like mucho grande, she has a sexy man voice, so she's mai drag queen. :D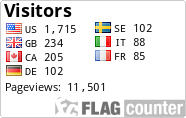 [
Report This
]
Contact Author:
Indicates required fields. Please be respectful and polite when contacting an author.